m o t h e r . w i f e . d a u g h t e r . g r a n d d a u g h t e r .
t e a c h e r . a r t i s t .

I have been old for a long time.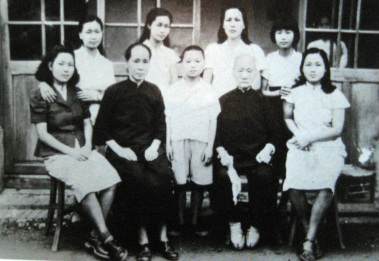 I was born in Taiwan to scholarly parents. My father's writing was considered notable among the young writers and university students of the 70s and 80s. They came to our house to discuss the politics, Communism, and the future. I had a crush on one of my father's young pupils only to be let down with the discovery that he was going abroad. He would eventually become a professor at Stanford University. Once my father told me that all the mail that had ever been sent to us had been read by the government. Only later in life did I realized that I had already begun at an early age to question the status quo response to the 2.28 incident , Mao's red book, and the CIA.

I grew up in Peitou (now Beitou), a busy town on the outskirts of Taipei. It was famous for hot springs, hillside hotels, and prostitution. Peitou was also the town with the first gang activity on the island. I have many unfiltered memories, like Lautrec or Larry Clark style raw images in my Peitou memory.

After earning my BA from the National Taiwan Normal University and fulfilling my term of service in teaching, I relocated to the United States to attend graduate school. I received an MFA degree from Pratt Institute in 1987 before returning to Taiwan for five years. During those years I taught art at universities, but I was also a lecturer, art critic and author of several books (in Chinese). I returned to the United States in 1994 and have been a public high school art teacher in Oklahoma since 2000. I am a recipient of Vermont Studio Center Fellowship, the Skidmore College High School Art Teacher Fellowship, and Oklahoma Visual Arts Coalition Creative and Professional Projects Grant. In 2011, I obtained a sponsorship from the US Department of State with the Visual Arts Initiative Program to travel to Taiwan to participate in the 2011 Kaohsiung International Container Arts Festival. In 2013, I traveled to the Oklahoma panhandle region. I also received a grant from the Fund For Teachers to travel on the Silk Road Xinjiang in China. Traversing through these two Wests had a profound influence on my view on water rights and land use. I am an immigrant artist, an advocate for Native American culture, and a strong believer in a great American tradition based on educational empowerment, fairness, and equality.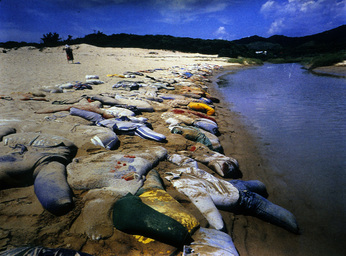 ​The beach front memorial I created in 1991 was a eulogy for humanity that were never given chance to live. The work I created took the form of children's bodies on a beach in Taiwan. I took children' clothing, sewed them and filled them with sand. Auguste Rodin once compared a sculpture to the fullness of a fruit. Rodin would not have missed the analogy, so many bloated bodies floating in the water after the cyclone. Importantly, that was the same year my son was born.



---